Check out our mezzanine for parties!!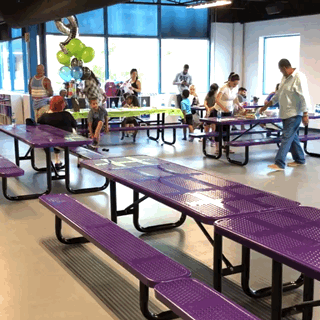 BIRTHDAY PARTY FAQS
CAN WE BRING IN OUR OWN FOOD?

If you are having a regular party with us, we happily welcome cakes and cupcakes to celebrate your momentous occasion! Please no other outside food though. If there are dietary or other specific needs, please call the park and we'll work it out. (If you are having a jump-only party, no outside food or cake please.)

​ARE WE ALLOWED TO BRING IN OUR OWN DECORATIONS?

Absolutely! If you'd like our Party Hosts to set up the decorations, please bring them the day before your event along with any setup instructions.

HOW EARLY SHOULD WE ARRIVE?

We recommend arriving 15-30 minutes before the event starts in order to check-in the guests and begin preparing for your event.

CAN WE ADD MORE PIZZAS?

Yes as long as you let us know 2 days in advance. If you want to add pizzas the day of the party, we'll do our best but can't promise delivery.
WHAT HAPPENS IF NOT EVERYONE SHOWS UP FOR MY PARTY?

We only charge for the number of jumpers that actually arrive. We will work out any variations when you check out.

IF I'M RUNNING LATE, DO I GET EXTRA TIME?

We'll do what we can but unfortunately, we often have a tight schedule and can't guarantee your table past your scheduled party time.

IS MY DEPOSIT REFUNDABLE?

Yes, deposits are fully refundable but only up until 2 days in advance.